Become part of the NZ SAR (Search and Rescue) Youth Development Organisation.

Join us in creating and growing the YSAR branches as we expand around New Zealand.

Be a part of growing the next generation of volunteers
Staring a new branch in your area is a long term approach to succession planning both in your location but also the Search and Rescue (SAR) and Emergency Management (EM) sector. YSAR is passionate about building this capacity and capability. The investment we make now will shape the future workforce to SAR and EM providing a young, energetic, innovative, diverse cohort of future volunteers. 
YSAR is an opportunity for existing members of SAR and EM to pass on their knowledge and skills to the next generation so that this institutional knowledge is not lost but built upon. 
YSAR New Branch initiaTion process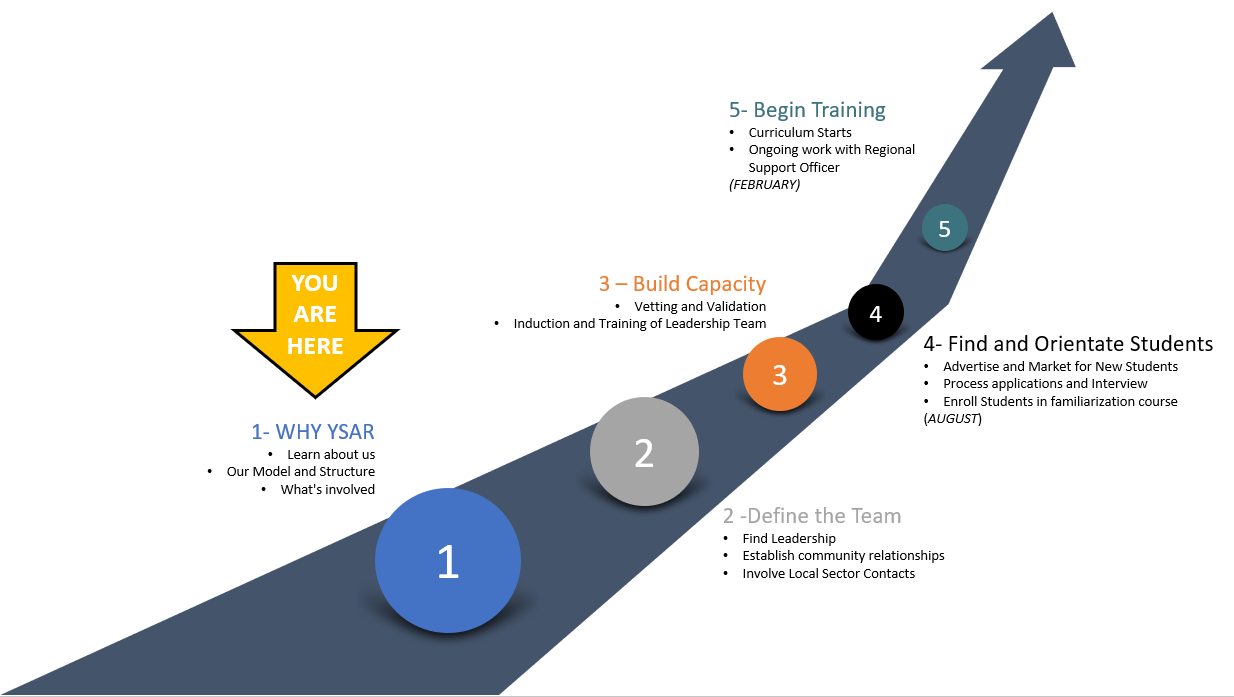 YSAR Calendar Year
The YSAR year starts mid-February and operates through to the end of the 3rd school term. In addition there is a 5 day end of year Search and Rescue exercise. The delivery of the programme is designed to support students during their busy exam commitments in the 4th term.
Our Students
The YSAR student demographic is diverse and needs to reflect the community demographics where your group is located. 
We have found that when the group is diverse, cultural perspectives can inspire creativity and drive innovation and keep communities safer. 
YSAR prides themselves in having a balanced gender ratio.  
YSAR continue to develop  agreements at a National level to strengthen relationships and build capacity at the local and regional level. These relationships include but not limited to; 
·       NZSAR Council and Ministry of Transport 
·       Ministry of Education  
·       Ministry Youth Development 
·       National Emergency Management Agency NEMA 
·       NZ Police PNHQ Community engagement and Police SAR 
·       LandSAR NZ 
·       Coastguard and Boating Education  
·       NZ Defence  
·       AREC 
·       Outdoor Recreation 
·       Sport NZ
·       FENZ  
YSAR LMS
The programme is supported by extensive online content, hosted in world-leading LMS (Learning Management System) application – CANVAS.
Significant investment in this education platform has ensured a dynamic, interactive and authentic learning experience for students, while also providing consistency in resources and approach across instructors and branches as we grow.
Watch an intro video here.
Equipment
All branches are provided the necessary
equipment for running your group including;  
·       Digital communications hub for radio and telemetry network;
Radios, repeater base sets on digital DMR and chest harnesses. 
·       Internet modem for weeknight and weekend training  
·       GPS's for training  
·       ArcGIS Pro Advanced licenses for all students and instructors through
Eagle Technology and GIS for Schools programme 
·       Focus Live tracking interface and equipment for field exercises  
·       Computers for IMT and administration 
·       YSAR MS Teams environment  
·       RPAS – drone for training and innovation projects 
YSAR Trust will support the startup of new branches through administration, training of volunteers and support to operational delivery. 
YSAR will provide a branch support manager to work with you to build capacity of your new branch during the year prior to taking new students. This support will continue once the branch has been established. They will work with you in the following areas;  
Identify 3 committed and dynamic leaders to build capability to run YSAR in your area

Tr

aining volunteers

 

Identifying training facilities and risk assessment

 

C

hild protection training and vetting your volunteers

 

P

urchasing resources for you branch

 

E

stablishing your Local operation support committee

 

C

ompiling an operational budget for the year

 

Local advertising and media relations

 

S

upport in building partner relationships

 

Support in interviewing prospective students

 

F

amiliarising your Team with YSAR systems and processes

 

S

upport for operational delivery  

 
Complete the form
here
.
Once you have filled in the form you will be given access to the Non Disclosure Agreement, then given access to the YSAR intranet and TEAMS environment where you can start the induction process through our Induction Hub.
Start to find build a dynamic positive team who believe in investing in the future through youth development.
Decide who is going to lead this venture.

You will need

3 people committed to the startup project.
A g

ender mix within the Team is preferable.

People from SAR, EM, lead agencies, outdoor education, education or tech specialists all make great leaders
Once you have these people together you will be invited to a meeting to discuss next steps.
If you have the opportunity – join a weeknight training exercise, or come along to a scheduled training exercise. Come and experience first hand what YSAR is about.
We look forward to beginning this journey with you.